What is Neuro-Optometry?
Neuro-optometry is a subfield of optometry that evaluates patients with visual complaints and double vision secondary to acquired brain injury (concussion, trauma, stroke, etc) and/or neurological disease (Parkinson's disease, multiple sclerosis, myasthenia gravis, Lyme disease, etc).
​
What is the difference between residency-training and a fellowship in neuro-optometry?
Did you know that all optometrists must graduate from a four-year accredited post-graduate optometry school and pass a national board exam demonstrating competency in primary care optometry?

After optometry school, an optometrist can apply for a residency program, which is an additional intensive year of postdoctoral advanced training dedicated to a subfield of optometry such as neuro-optometry, pediatrics, contact lenses, low vision or ocular disease. Residency training is completed in a university, veterans affairs, or hospital setting, and is formalized to ensure that the training is evidence-based and accepted as standard medical care. Like medical residency programs, these residencies are competitive and require rigorous clinical education that is regulated by ASCO (Association of Schools and Colleges of Optometry)

Some optometrists with or without residency training, can also apply for a membership/fellowship to a private optometric organization that can enhance their skill set in one of the sub-fields of optometry for example behavioral or developmental optometry. While these programs are not accredited, year-long intensive training programs like residencies, they do provide enhanced training and continuing education programs for optometrists who want to enhance their skill set and provide additional services to their patients. They also provide the optometrist with opportunities for lifelong learning to make sure they are up-to-date with changes in their field. Examples of organizations an optometrist can apply for membership/fellowship to include the Neuro-Optometric Rehabilitation Organization (NORA) or the American Academy of Optometry (AAO), just to name a few.
​
​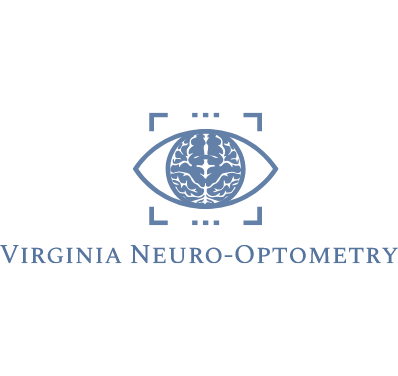 How can a brain injury or neurological disease impact vision if the eyes are healthy?
The ability to "see" and interact with the world around you goes beyond proper spectacle correction and eye health as it requires precise coordination of the eyes, the brain and the body. For example, in order to "see" a soccer ball move in front of you - your eyes need to perfectly focus that image of the ball to the back
of the eye (retina), transmit that signal to the visual cortex at the back of the brain - and then interpret WHAT that visual information is, WHERE it is relative to you, and then decide HOW it wants to react to that visual information.
The ability to interact with what we see requires every lobe of the brain in some way - so when a patient develops a neurological disease or injury, there are many places along the pathway where our ability to "see" can be altered
​
How is this neuro-optometric evaluation different than a routine eye examination?
The neuro-optometric examination is a comprehensive and problem-focused evaluation of all the aspects of vision that may be affected by damage to the eyes and central nervous system.

This assessment will include elements of the traditional eye exam including ocular health, evaluation of visual acuity (clarity), peripheral vision, and refractive error (glasses prescription).

The traditional eye exam can be done first by your primary eye care provider if you prefer (see For Patient Tab:Payments)​

Depending on the visual concern, the neuro-optometric evaluation will employ advanced testing to evaluate how the eyes work together (sensory-motor/oculomotor), and how the brain interprets what the brain sees (visual processing).​
​
What kind of vision problems can you help?
Most of our patients have visual complaints that occurred with or after diagnosis of a neurological condition like multiple sclerosis, Parkinsonism disorders or acquired brain injury. The concerns range vastly and may include but are not limited to:

Light sensitivity (photophobia/photosensitivity)

Blurry vision

Double vision

Reading difficulties - trouble reading for prolonged periods of time, words appear to move, losing place while reading, slow to readh

Nausea, dizziness, and headaches that are provoked by visually-related tasks (reading, computer, etc).

Anxiety in visually crowded areas like grocery stores or hallways

Visual field loss

Additionally, we also help patients who have double vision due to strabismus, cranial nerve palsies, retinal disorders, developmental oculomotor dysfunction and nystagmus
​
What ages of patients do you see?
We see patients ages 3 and up
​
What kind of treatment options do you use?
Every individual is different. Your treatment depends upon your diagnosis and your personal goals. Our mission is to get you to do and see the things you enjoy. Outside of the neuro-optometric testing, a majority of the time is spent understanding your individual needs and goals, and discussing what would be the best treatment plan for you.

Treatment options may include but are not limited to

Prism glasses to help double vision, gaze limitations, visual field restrictions

Tinted lenses for patients with contrast sensitivity loss and/or light sensitivity

Vision therapy

Concussion and traumatic brain injury vision rehab​

Orthoptics (oculomotor) vision rehab for Convergence insufficiency, Convergence Spasm, and Accommodative disorders

Extensive patient education
What is orthoptics vision therapy?
Orthoptics is an evidence-based type of vision therapy/rehabilitation for oculomotor dysfunction/disorders including convergence insufficiency and accommodative disorders. It has been shown in clinical trials to be helpful for certain patients with certain types of presentations of oculomotor dysfunction - this means, that NOT everyone is a candidate for orthoptics. However, for those patients who ARE a candidate (Ex: post-concussion), this specific type of vision therapy is available
​
How many orthoptics vision therapy visits will a typical patient need?
Every patient is different and there is no definitive answer to this question. However, Dr. Theis' goal is to get you better as soon as possible! Dr. Theis will monitor the patient's on-going progress and tailor the rehabilitation program to the patient's oculomotor system to expedite recovery

In her extensive clinical experience, the majority of orthoptics therapy can be successfully performed in a home-based program with telemedicine/office follow-up visits to help guide your success. This methodology is not only cost-effective for the patient, but reduces the burden on the patient/family to acquire transportation and take time off of work for weekly/biweekly in-office visits and reduces triggering symptoms in patients who are unable to tolerate vehicle transportation due to their brain injury. In-office rehabilitation can be done by request only.
​​
Have more questions? Feel free to email us at